Winter 2022
IG HAF Derbyshire Chesterfield Library 2022
Summer 2022 
Below are links and information about a range of summer activities.
Kids Eat for £1
Please find link to information about Asda Café where The Kids Eat for £1 initiative is available all day, every day from 25th July to 4th September, as long as the Café is open. And dependent on the store, a hot meal or cold meal, or both, will be on offer.
https://www.asda.com/about/instore/cafe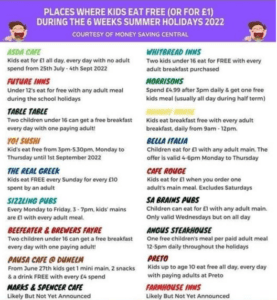 Its about me – Summer Activities
It's about me is offering summer Face 2 Face provision. Below is a link to request an 'Activity Pack' which will be sent direct to your home. The pack offers wonderful information and lots of fun activities to do together as a family.
The link – It's about me | Welcome (itsaboutmederbyshire.co.uk)  (The direct route via the landing page = Click 'Grown Ups' scroll under the video and the link is there. )
Summer Camps
Below are links to summer camp offers
Derbyshire Summer HAF 2022 Final
IG Chesterfield Library Poster
Extreme Wheels
22 817 Have A Summer Adventure
Summer Holiday Program of Events
SPLC SUMMER Flyer 2022 11758 WEB A
The Little Trekkers Summer Camp
The Little Trekkers Summer Camp is 4 weeks' worth of FREE printable activities to help make the summer holidays a little easier for you!
Sign up to receive 30 pages of free downloadable activities, plus your summer planning calendar and summer holiday bucket list printable.
We think every child should be encouraged to become an Eco Warrior, Future Scientist, Mindful Mover and Nature Explorer, so that's why our Summer Camp is split into these 4 topics.
Sign up: https://www.littletrekkers.co.uk/little-trekkers-summer-camp
Early Help Offer
Providing early help to our children and families at North Wingfield Primary and Nursery Academy means we are more effective in offering support as soon as we can. Early help means providing support as soon as a problem emerges, at any point in a child's life, from the foundation years through to teenage years.
Here at North Wingfield Primary and Nursery Academy, we absolutely understand and empathise with just how complicated family life can be. From time to time, there may be situations where you need extra help and support.
If things aren't right at home, please come and talk to us. We have an Offer of Early Help.
There are many ways in which we can help.
At North Wingfield Primary and Nursery Academy, we pride ourselves in knowing our children really well: we are alert to the welfare of our children and are vigilant regarding any situation in which we can provide support.
We work collaboratively with our families to identify any additional needs and we seek at all times to support with openness, integrity and understanding. We place the needs of the child at the centre of all we do.
1.   What is Early Help?
The purpose of early help is to prevent issues and problems becoming serious and harmful to a child or young person, their family and community. When children and families need this extra support, they often need it quickly. Provision of early help support can be at all stages of a child's life: pre-birth, during pregnancy, childhood or adolescence.
2.   What does Early Help include?
Support for pupils which includes:
a.    Promoting good attendance and punctuality. b.    Promoting self-esteem and confidence.
c.    Promoting positive behaviour and positive attitudes to learning.
d.    Providing individualised support.Support for families which includes:
e.   Providing information and signposting to other services in the local area.
f.   Liaising with a range of external services such as housing and Family Support Workers.
g.  Assistance in completing paperwork and forms e.g. housing, foodbank vouchers, attendance and support at school
​    and other agency meetings.
h.  Advice and support in promoting positive behaviour at home.
3.   Who provides Early Help support in school?
The answer is any member of staff; usually, the class teacher in the first instance as they have most contact with the children. All staff receive safeguarding training to ensure that advice given is in the best interests of keeping children safe.
The school telephone number is 01246 851176.
Mrs Peacock is the Designated Safeguarding Lead (DSL); the Deputy Designated Safeguarding Leads are Mrs Parmley and Mrs Denovan. Mrs Denovan is also our Nurture and Wellbeing Manager and lead for Early Help support.. She provides a close link to resources and support offered through our community teams link Bev Hooper. If required Bev visits to the school and will provide support to staff to enable Early Help provision.
The following information outlines the types of Early Help which may be required as well as listing agencies and web-based information all designed to offer support quickly and effectively.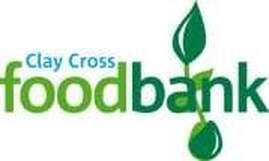 Clay Cross Foodbank (Voucher required from referrer)
Tuesday, 1pm—2pm and Friday 1pm – 2pm Community of Christ Church, Thanet Street, Clay Cross.
​
We are now open for families to collect their parcels, a few delivery slots available for those self-isolating, shielding or who can't collect.
If you don't have support from someone already, North East Derbyshire Citizens advice are open Monday to Friday on 0300 4568437 (9-2pm) or via web chat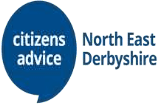 At Citizens Advice North East Derbyshire, we give free, independent, confidential and impartial advice on a wide range of subjects which in- cludes benefits, debt, housing, employment, consumer, legal, relation- ships, and immigration. We are continuing to offer a service during lock- down via telephone and webchat. Phone: 0300 456 8427 Our lines are open Monday-Friday 10am-2pm.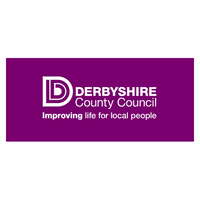 The Derbyshire Discretionary Fund (DDF) can provide grants or emergency cash payments if you are in urgent need of financial help following a crisis or disaster.
Phone number : 01629 533 399